I'm going to copy

yaminokaitou
and start off with just pictures/descriptions of what I bought. Partly because I enjoy crowing over it, and partly because there are far, far fewer pictures of what I bought than of everything else, heh.
On day 1, I got into Japan, met up with my dear friends

yaminokaitou
(Aya) and

kazenokaitou
(Omi), and visited Sensouji temple for just a bit, so I didn't buy anything.
Day 2 - Akihabara, part 1
We also went to a museum this day, and we spent most of our time in Akiba waiting to get into the Cure maid cafe, where they were having a Code Geass: Nunnally in Wonderland themed event. So we didn't spend a whole lot of time shopping exactly, but I still managed to pick up some good stuff.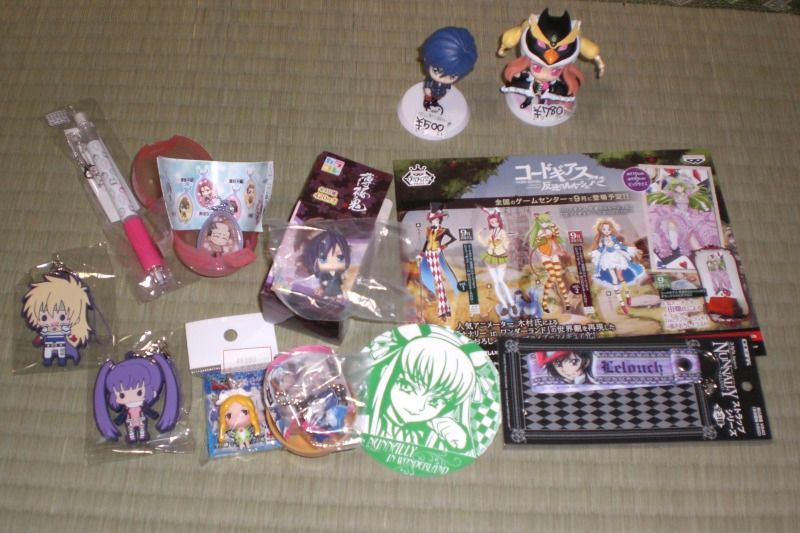 Clockwise from the upper right, we have Shouma and the Princess of the Crystal chibi figures (Mawaru Penguindrum), a flyer from the cafe, a (exclusive?) Mad Hatter Lelouch phone strap from the cafe, an exclusive C.C. coaster (?) from the cafe, a Shouma keychain, a Mercedes phone strap (Odin Sphere), Sophie and Stahn Tales of Friends phone straps (Tales games, from the tiny "Tales Store" in Kotobukiya), a Mawaru Penguindrum pencil (from Animate), a keychain featuring that one jiji from Hakuoki, and a keychain of Saitou, also from Hakuoki.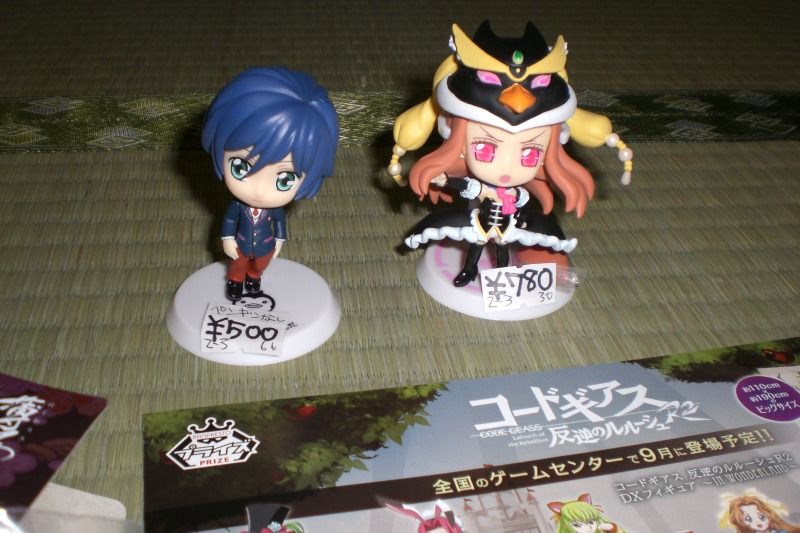 The Mawaru Penguindrum figures were definitely the most exciting thing this day. They're soooo cute, and I love both characters. ... I kinda regret not getting the cute chibi figure of psycho!Rena (from Higurashi) I saw at the same store, though she was a little more expensive.
Day 3 - Pokemon Center, Tokyo Tower, Square Enix Store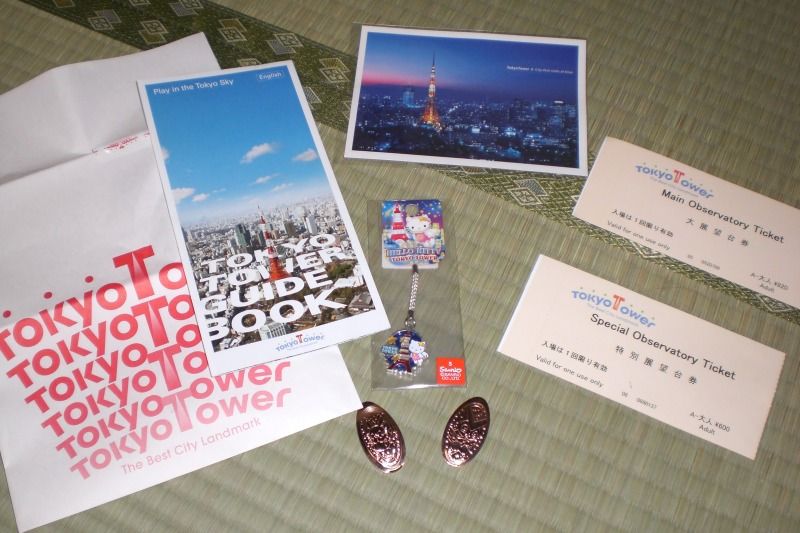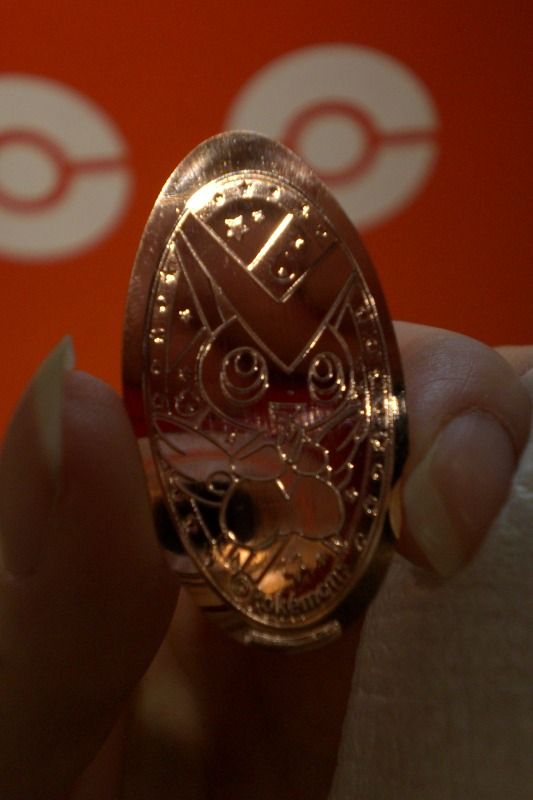 Didn't buy much this day. I'm out of touch with the newer Pokemon games, so I wasn't familiar with the Pokemon there was merchandise for other than Pikachu (too bad; I would've loved something Ninetails themed T_T), so I contented myself with getting two pressed pennies to commemorate the occasion. The Square Enix store's selection was underwhelming (and kind of pricey). But since Tokyo Tower was a place I've been wanting to visit forever, I got a Hello Kitty phone strap there along with the pretty postcard, which I mailed to myself, hehe.
Day 4 - Ikebukuro (Otome Road & BookOff), Shinjuku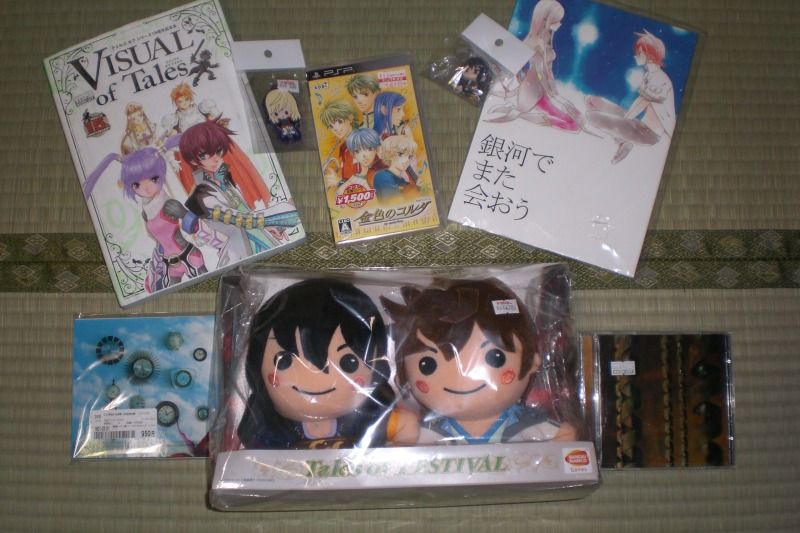 Clockwise from the top right, we have a Tales of the Abyss doujinshi (general audience, from Mandarake), LUNA SEA
Singles
CD, Tales of Festival 2010 plushies --

yaminokaitou
got the Asbel, I got the Yuri, Under Graph
Kokyuu suru jikan
(Breathing time) CD+DVD, Visual of Tales book, Richard Tales of Friends phone strap, PSP game La Corda D'Oro/Kiniro no Corda (from an electronics store), Yuri keychain.
(Yes, I am a Tales fan, and Yuri is a favorite of mine, can you tell? XD)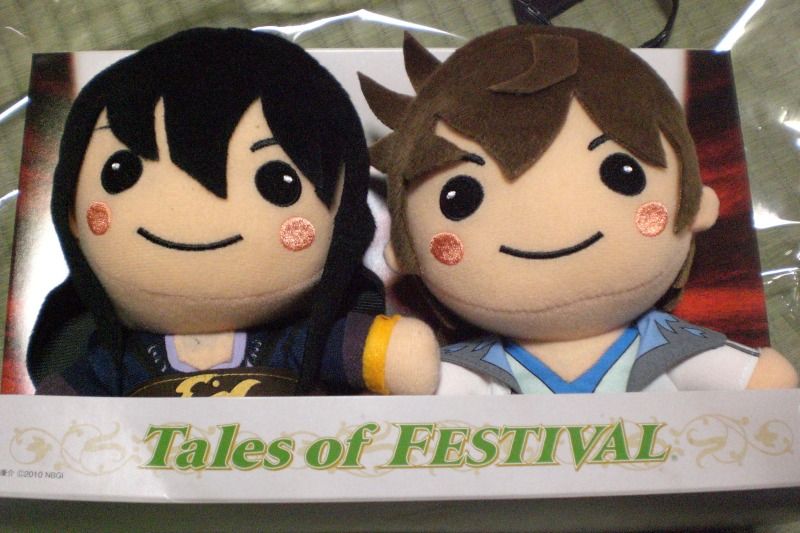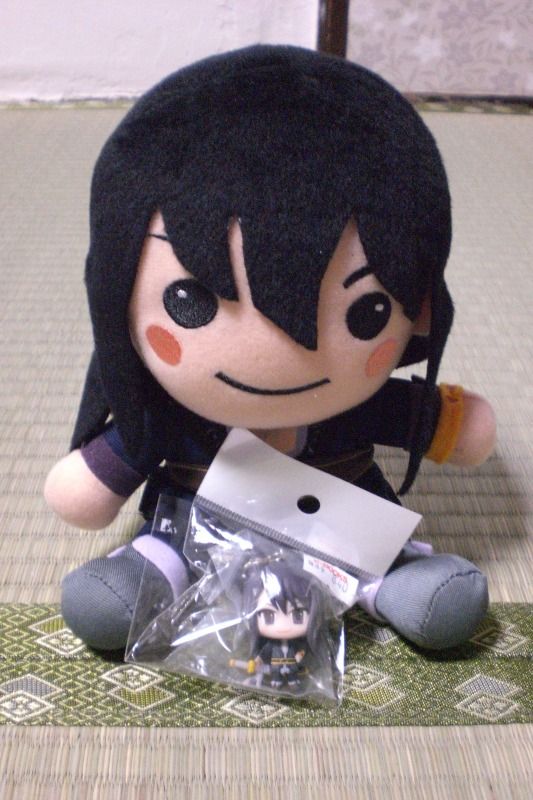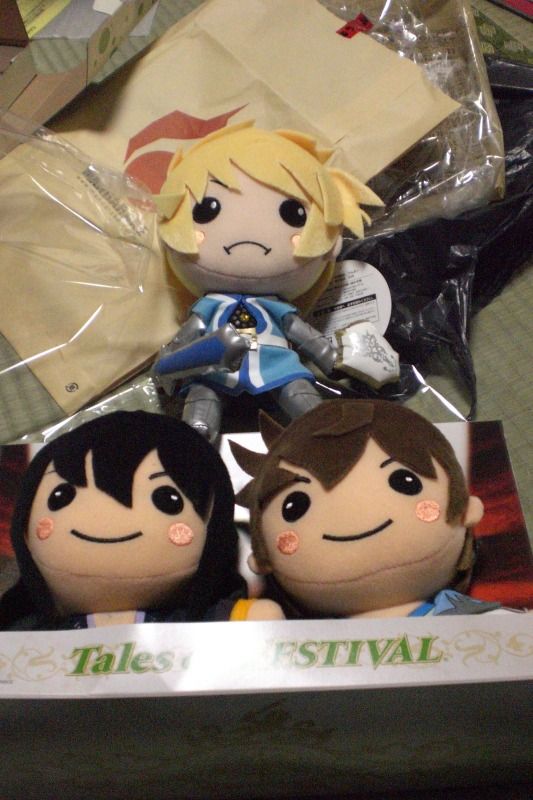 With

yaminokaitou
's Flynn plushie. I really wanted the Yuri plushie that matches this Flynn one, but unfortunately it was not to be found anywhere. However, it is getting re-released in September, so maybe ... *how obsessed do I want to be? XD*
Day 5 - Harajuku and Shibuya (BookOff)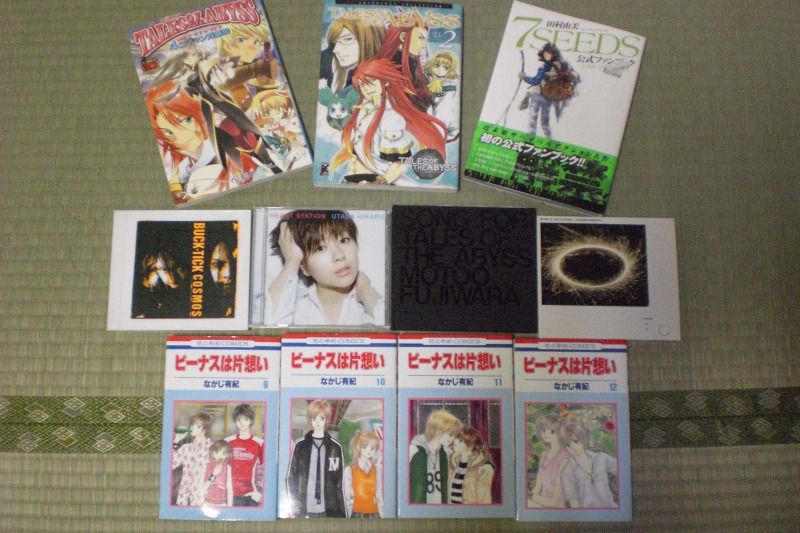 Top row (left to right): Tales of the Abyss 4 koma, Tales of the Abyss anthology v. 2, 7 Seeds fanbook (with color illustrations)
Middle row: Buck-Tick
Cosmos
CD, Utada Hikaru
Heart Station
CD,
Song for Tales of the Abyss
CD, Under Graph
Zero he no chouwa
(Harmony toward zero) CD+DVD
Bottom row: volumes 9-12 of
Venus wa Kataomoi
.
Again, love for Tales is obvious XD
Venus wa Kataomoi
, known in the U.S. as Venus in Love is a series I was really enjoying whose U.S. publisher (CMX) died before finishing the series. I couldn't remember how far they'd published though (I think it was up to 8; I haven't tracked down all the volumes out yet), so I just picked up the last four volumes.
Oh, also!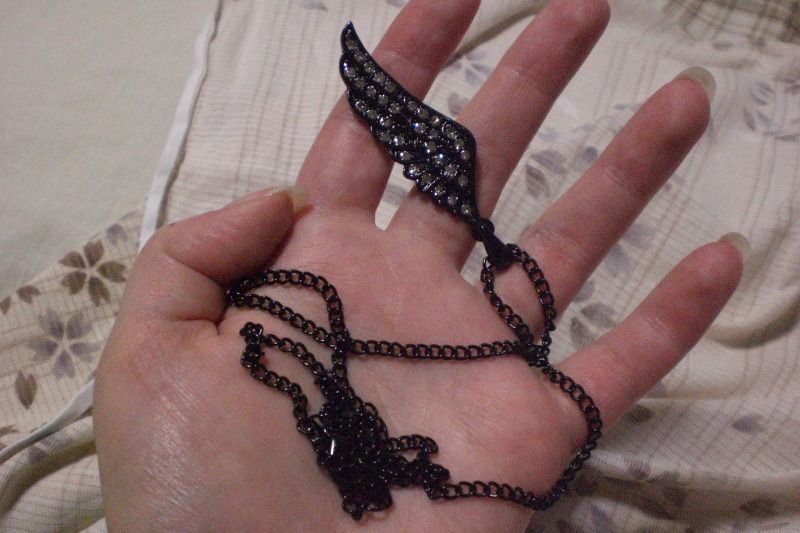 I really wanted to get a new necklace while I was in Japan, and I found this very pretty one for 1050 yen in Harajuku, so I snapped it up.
Day 6 - Akihabara, part 2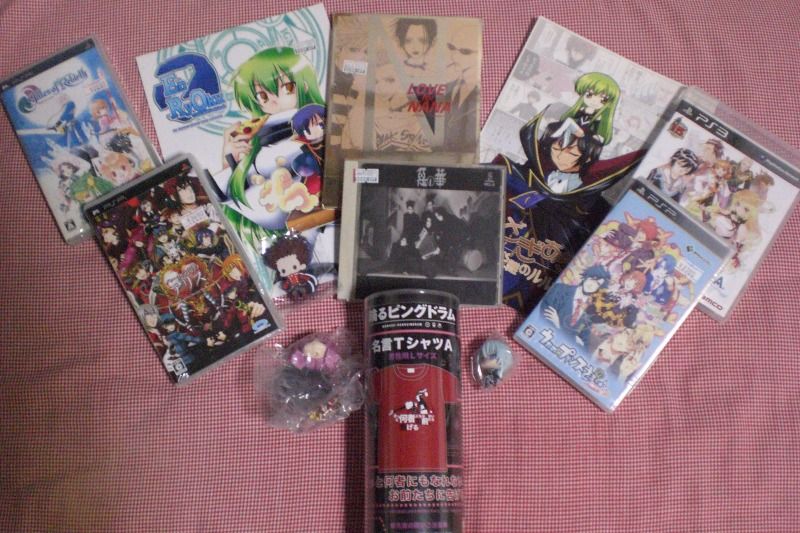 Top row (left to right): Tales of Rebirth (PSP), Code Geass doujinshi (gen. audience),
Love for Nana
CD, Code "Geachu" doujinshi (gen. audience), Tales of Xillia (PS3)
Middle row: Heart no kuni no Arisu (Alice in the Country of Hearts) (PSP), Lloyd Tales of Friends phone strap, Buck-Tick
Aku no Hana
CD, Uta no Prince-sama Repeat (PSP)
Bottom row: That annoying chick from Star Driver mini figure (x2 x.x), amazing Princess of the Crystal T-shirt (Mawaru Penguindrum), Veigue mini figure (Tales of Rebirth)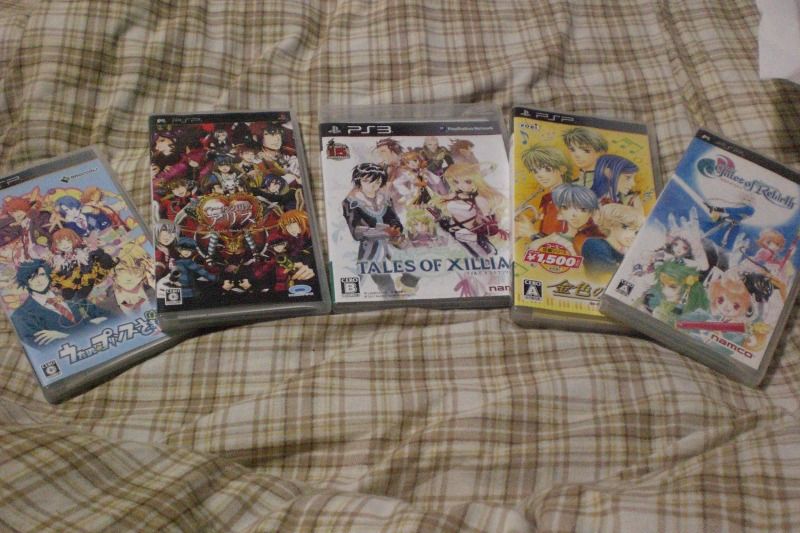 Recap of all the video games I purchased over the course of the trip: Uta no Prince-sama Repeat, Heart no Kuni no Alice, Tales of Xillia, La Corda D'Oro, Tales of Rebirth. Three otome games and two Tales games, heh. Rebirth, La Corda, and UtaPri were games I specifically was looking for. Alice I bought because I've heard good things about QuinRose otome games, and this was the cheapest one I found (though it wasn't especially cheap). Xillia I was not planning on buying at all. I actually wanted to get Tales of Graces F in Japanese, but the price I found it for was a bit higher than I was willing to pay (it was always $45+ -- not terrible considering Japanese games, but more expensive than any of the games I bought). Xillia, on the other hand, was pretty much everywhere for 3000 yen used. That still wasn't cheap enough, but when I saw it for 1980 yen, I could no longer resist, even though I figure it'll probably make it out to the U.S.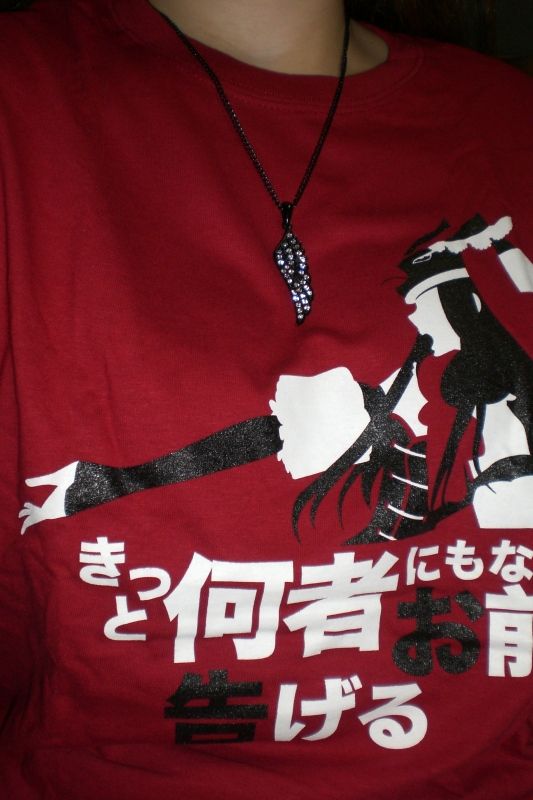 Showing off my stylish (though a bit large -- I got a men's large to be safe, and I definitely would've been OK in a medium) Mawaru Penguindrum T-shirt and necklace. The quote on the shirt is from the ever imperious Princess of the Crystal and goes something like, "Listen, you lowlifes who will never amount to anything." I didn't buy it the first time I saw it, but the second time ... I was already afraid I was going to run out of T-shirts because it was warmer than I thought it would be (I had brought a few longer sleeved shirts with), and it was only 2100 yen, much cheaper than many shirts I had seen, and ....... yup.
This day we spent the whole time in Akihabara, and we also felt like it was going to be our last real "shopping day," so I scaled back my inhibitions accordingly, heh. By the way, the little straps/figures/keychains on this day (and also the Tales of Friends keychains minus Richard and a few other items) were bought blind, in those little boxes where you don't know which one you're going to get. The Tales of Friends keychains are kind of a funny story. I decided to buy two the first time we went to the Tales Store. I looked at the characters you could get and liked the majority of them. I can be kind of a pessimist so I joked that I would probably get the two I least liked, Lloyd and Stahn (not to say I hate either of them, it's just that I liked all the other characters available better). And I got ... Lloyd and Stahn XD (After this, I became known as the one who makes bad predictions that come true.) Aya graciously traded me her Sophie for my Lloyd, because I like Sophie more than she does and she likes Lloyd more than I do. Anyway, this time I decided to buy just one more. And I got ... Lloyd, AGAIN. So I guess Lloyd is just determined to be in my possession XD (And I think Aya got Stahn, right? XD)
Anyway, that is also the reason why I have two of that stupid girl from Star Driver. I liked every character but her, and I get two of her, ugh XD
Day 7 - Odaiba and Tokyo Sky Tree
Another light day for souvenirs. Just my all-day pass for the Yurikamome monorail on Odaiba (just took a picture of it because it's cute, hehe), a light up phone strap and a picture phone strap of Tokyo Sky Tree. Sky Tree isn't open yet, but since it was completed, we moseyed on over to look at it. And there are gachas with souvenirs of it already, heh.
Day 8 - Hakone/Mt. Fuji
No souvenirs this day. Completely
standing in lines
sightseeing. We did get a lovely view of Mt. Fuji, though, so that is better than any souvenir I could get there.
Day 9 - Wandering, but mostly Ikebukuro
I was on my own this day, and I didn't really have a plan, so I just went from stop to stop and eventually made my way back to Otome Road in Ikebukuro.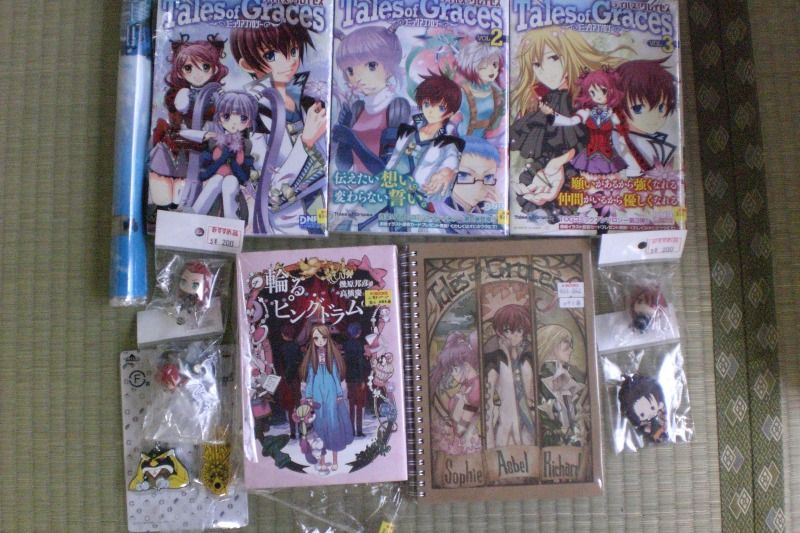 Top row (left to right): Eden of the East plastic poster, Tales of Graces comic anthology v. 1-3
Bottom row: Asch keychain, Luke mini figure, Mawaru Penguindrum keychains, Mawaru Penguindrum light novel 1, Tales of Graces F 2011 planner, Kratos keychain, Alvin Tales of Friends phone strap.
So. I was thinking maybe I'd go back and get the cute set of Mawaru Penguindrum penduin plushies. But then I saw the Mawaru Penguindrum complete guide (or something like that), which was about the same price. But I told myself I wasn't going to buy any more books (too heavy). But it looked so nice. But the penguins were so cute. But I shouldn't buy both ...
...
So in typical me-fashion, I convinced myself I didn't need them and bought neither o_o (I do regret that a little. Plus, there was a freaking EDGEWORTH figure there! EDGEWORTH!! He was extremely tempting too.)
Instead, I got the pretty Tales of Graces F planner (though I thought it was a diary, oops, at least it has some cute pictures in it), the keychains, and the Eden of the East poster (which was only 50 yen! 50 yen!! It's really nice too). By the way, the Asch is for

kazenokaitou
and the Kratos is for

yaminokaitou
, if they want them/don't have them already :D
Then I strolled down the way and came upon the book store branch of K-books. And I had time, so I looked around. And I found the Tales of Graces comic anthologies, which Aya had found for herself at BookOff and which I had coveted (bad me). They were a little more expensive, but it was my last day, and ... I couldn't resist D: ... and then I found the Mawaru Penguindrum light novel, which I had been looking at before at a different store for full price, and now it was much cheaper because it had an itty-bitty dent on the top, and I wanted to get it in the hopes that someday I could read it ... yup, no inhibitions left. (It's a wonder I didn't go back and buy those cute little penguins after all.)
So phew. I bought a lot. But all in all, other than the useless blind-box items, I was pretty happy with all the
junk
lovely things I've brought home. But now I have a huge video game backlog XD
I suppose I'll post more in the future about what I actually did besides shopping XD I've been trying to put up my pictures on Facebook, but it is being rather stubborn. Anyway, it's getting late now and I unfortunately have work tomorrow, so that's all for now.